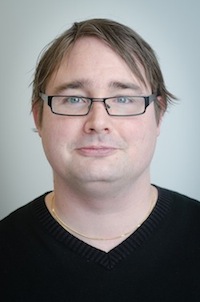 Per Ola Kristensson (June 27, 2013).
Photo credit: Callum Hyland.
License: CC-BY-SA. Hi! I am a University Lecturer in the Department of Engineering at the University of Cambridge. I lead the Intelligent Interactive Systems group, which belongs to the Engineering Design Centre.
Contact
The best way to reach me is via email:

kristensson @ acm.org
Alternatively you can write to me at:

Dr Per Ola Kristensson
Department of Engineering
Trumpington Street
Cambridge CB2 1PZ
United Kingdom

Opportunities
My research group is always open to new enthusiastic PhD students and post-doctoral scholars. A range of PhD projects are available. If you are interested then please do not hesitate to contact me. Support for post-doctoral scholars is available via a number of fellowship schemes. Again, please contact me for more information.
News
October 10, 2014

I have received the ACM User Interface Software and Technology (UIST) Lasting Impact Award for the paper SHARK2: a large vocabulary shorthand writing system for pen-based computers. It was published at UIST 2004. The citation reads: "Awarded for its scientific contribution of algorithms, insights, and user interface considerations essential to the practical realization of large-vocabulary shape-writing systems for graphical keyboards, laying the groundwork for new research, industrial applications, and widespread user benefit".
October 6, 2014 Our new group website is up! It is still a bit thin on content at the moment.
September 15, 2014 I have been appointed Honorary Reader in the School of Computer Science at the University of St Andrews.
June 9, 2014 I will take up a University Lectureship in in the Department of Engineering at the University of Cambridge later this year.
May 14, 2014 I am quoted about the future of text entry in the latest report from the Pew Research Internet Project.
May 6, 2014 Our paper "AwToolkit: attention-aware user interface widgets" received a Best Paper Award at the 12th ACM International Working Conference on Advanced Visual Interfaces (AVI 2014).
March 20, 2014 I have been awarded the Royal Society of Edinburgh Early Career Prize in Physical Sciences, the Sir Thomas Makdougall Brisbane Medal. See also here and here.
January 20, 2014 There's an article in Financial Times that quotes me about the current state of touchscreen keyboards and the future of text entry.
November 29, 2013 I am listed in The Courier Impact 100 at position 11. A scan of my profile in the newspaper is here.
August 21, 2013 I have been named an Innovator Under 35 (TR35) by MIT Technology Review. My profile is here. See also here, here, here, here and here.