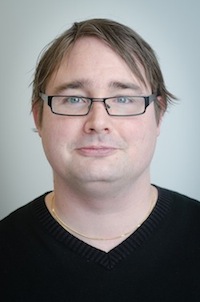 Per Ola Kristensson (June 27, 2013).
Photo credit: Callum Hyland.
License: CC-BY-SA. Hi! I am a Professor of Interactive Systems Engineering in the Department of Engineering at the University of Cambridge and a Fellow of Trinity College, Cambridge. I lead the Intelligent Interactive Systems group, which belongs to the Engineering Design Centre.
Contact
The best way to reach me is via email:

kristensson @ acm.org
Alternatively you can write to me at:

Professor Per Ola Kristensson
Department of Engineering
Trumpington Street
Cambridge CB2 1PZ
United Kingdom

Opportunities
My research group is always open to new enthusiastic PhD students and post-doctoral scholars. A range of PhD projects are available. If you are interested then please do not hesitate to contact me. Support for post-doctoral scholars is available via a number of fellowship schemes. Again, please contact me for more information.
News