Kristensson, P.O. 2007. Discrete and Continuous Shape Writing for Text Entry and Control. Doctoral dissertation, Linköping University, Sweden. ISBN 978-91-85831-77-7. (pdf)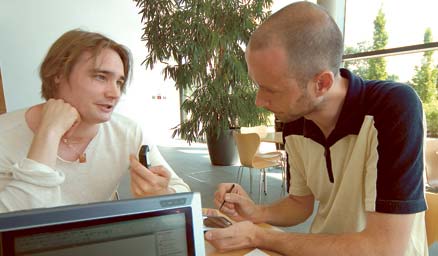 Interview with Aftonbladet. © 2007 Aftonbladet.
I successfully defended the above doctoral dissertation Friday 8th June 2007 at Linköping University. The opponent was Prof. Bill Buxton. A national press release was issued by the university, and it attracted quite a lot of attention in Swedish media.
The reporter from Aftonbladet was the first to meet me in person and actually try out the technology. I met with him at the Computer Laboratory Cafe in Cambridge in July 2007. He competively compared the text entry rate of ShapeWriter on my phone with various text entry methods available on his own phone (multi-tap, T9). Of course ShapeWriter beat them all!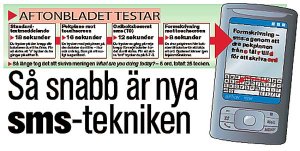 Click to enlarge. © 2007 Aftonbladet. Late 2008, NyTeknik decided to do a follow-up on their original article and called me up for a new interview. In the new article they tested ShapeWriter on the iPhone. That article got syndicated to Dagens Nyheter, a newspaper I would classify as the "New York Times" of Sweden (well, as close as it can go).
Press articles